This store requires javascript to be enabled for some features to work correctly.
"Impertinence is the wisest of qualities"
-
Why Fashion?
Fashion design has always been a dream and a passion. But I had more or less given up on this idea when I embarked on Economics & Finance studies at the University Paris Dauphine. However, creation, in all its forms, has always occupied a central place in my life. After ten years of market finance practice, I felt that the time had come to allow myself to pursue this long-time dream.
-
Why the dress?
The dress is my favorite piece of the feminine wardrobe. The one I have always loved to design and the one that, for me, most accurately reflects the soul and DNA of all fashion houses. Through my creations, I want to show that you can assert yourself in a dress - and I will go even further: in a joyful dress! The anthracite trouser suit should not have a monopoly on the "professional" attire.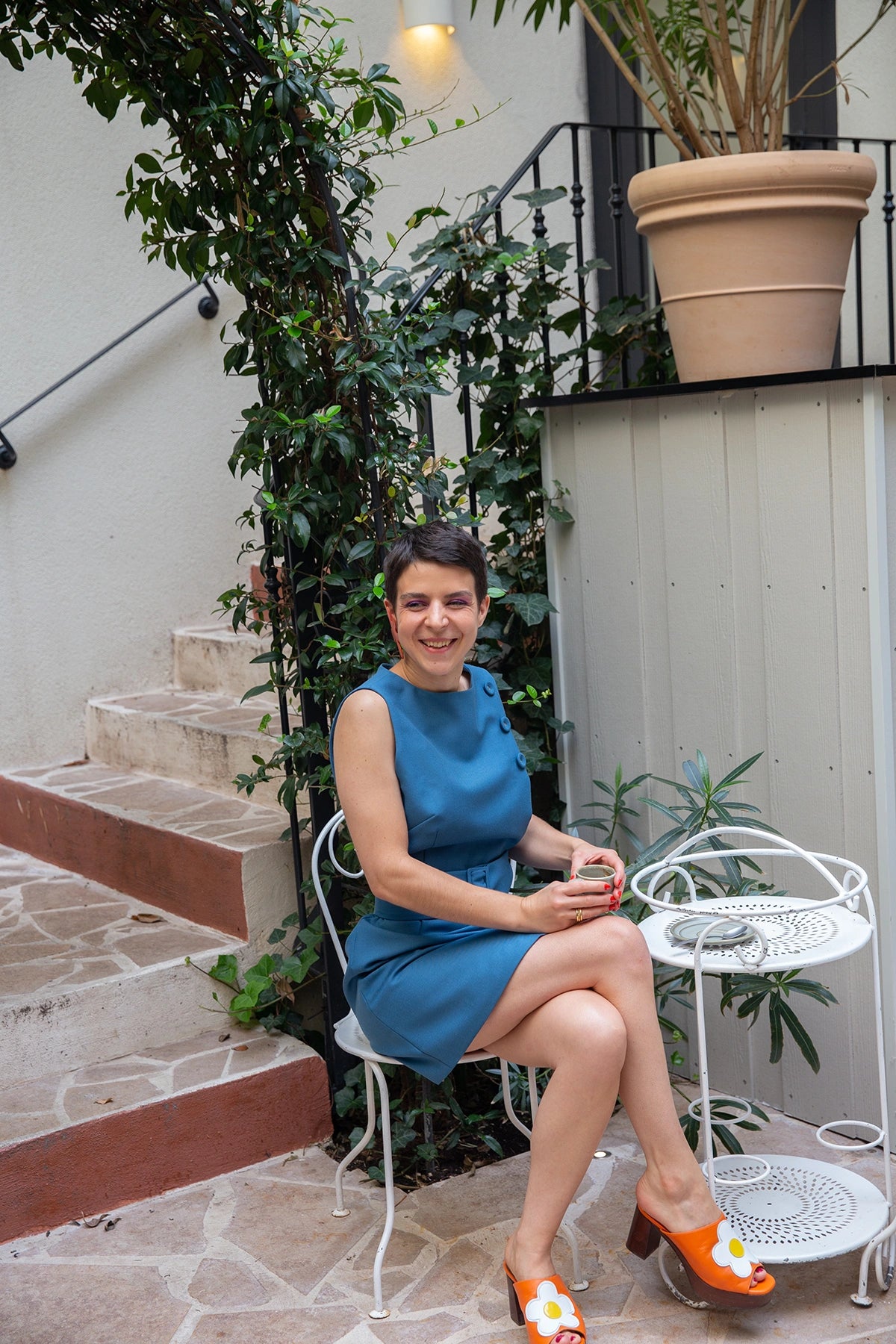 How did you learn fashion design?
I am not a big fan of that term, but I guess you could call me an "autodidact". I have always loved drawing, especially women and dresses. I grew up admiring my mother's closet. It was in her wardrobe, where we could stay for hours with my older sister, that I first discovered jackets with shoulder pads, dresses with such beautiful cuts, the famous Carel ballet flats, amazing hats... the materials, the fabrics, the colors. She has always had such a sure and yet very personal taste, regardless of the dictates of "The Trend". My love for design and furniture from the 20th comes from my father - a true passionate and connoisseur.
-
What do you get from your first professional life in finance?
While it is true that the finance and fashion industries may seem light years apart, the skills I have developed during my years exploring the twists and turns of financial markets are immensely useful on a daily basis in this adventure. Rigor, customer relations, attention to detail and agility in particular, which are key as a business leader. As surprising as it may sound, considering the very classic "dress code" of the banking world, my first professional life is also a great source of inspiration in my dress designs. When I design a new model, I always ask myself if it could adapt as well to a "leisure" situation - a dinner and a movie night; a trip with friends... - as to a professional situation - like, for example, an appointment with an heavyweight of the CAC 40!
e-shop
What is it, a beautiful dress?
The style itself is a very personal and subjective matter. On the other hand, there are two conditions which, for me, are essential for a truly "beautiful" dress - in all objectivity! : cut and quality. In the choice of materials, in the choice of finishes. In the choice of manufacturing partners. It is only once these factors have been secured that you can allow yourself all the fantasies.
-
A forbidden pattern?
No! I am one of those who think that you can afford absolutely all the patterns, and all the colors, as long as they are rightly associated.
-
An essential color to have in your wardrobe?
Orange, of course. A warm and luminous color that flatters all skin tones thanks to its rich palette of variations.
-
Finally, a quote?
"When you feel right in a garment, anything can happen." - Yves Saint-Laurent.